I'm excited to announce Mama in Heels' first giveaway;  Kevin's Closet 2 oz Sweet Lemongrass Crème & Oil, and 1 oz Lemongrass Balm.
I've been asked to review some skincare products.  If you have been following my blog you will know that most if not all of my skincare products are organic.  When an opportunity came from Kevin's Closet I jumped at the chance after reviewing their products on their website.  They believe in healthy living and their products are made with organic ingredients.  They are working on getting their products USDA certified.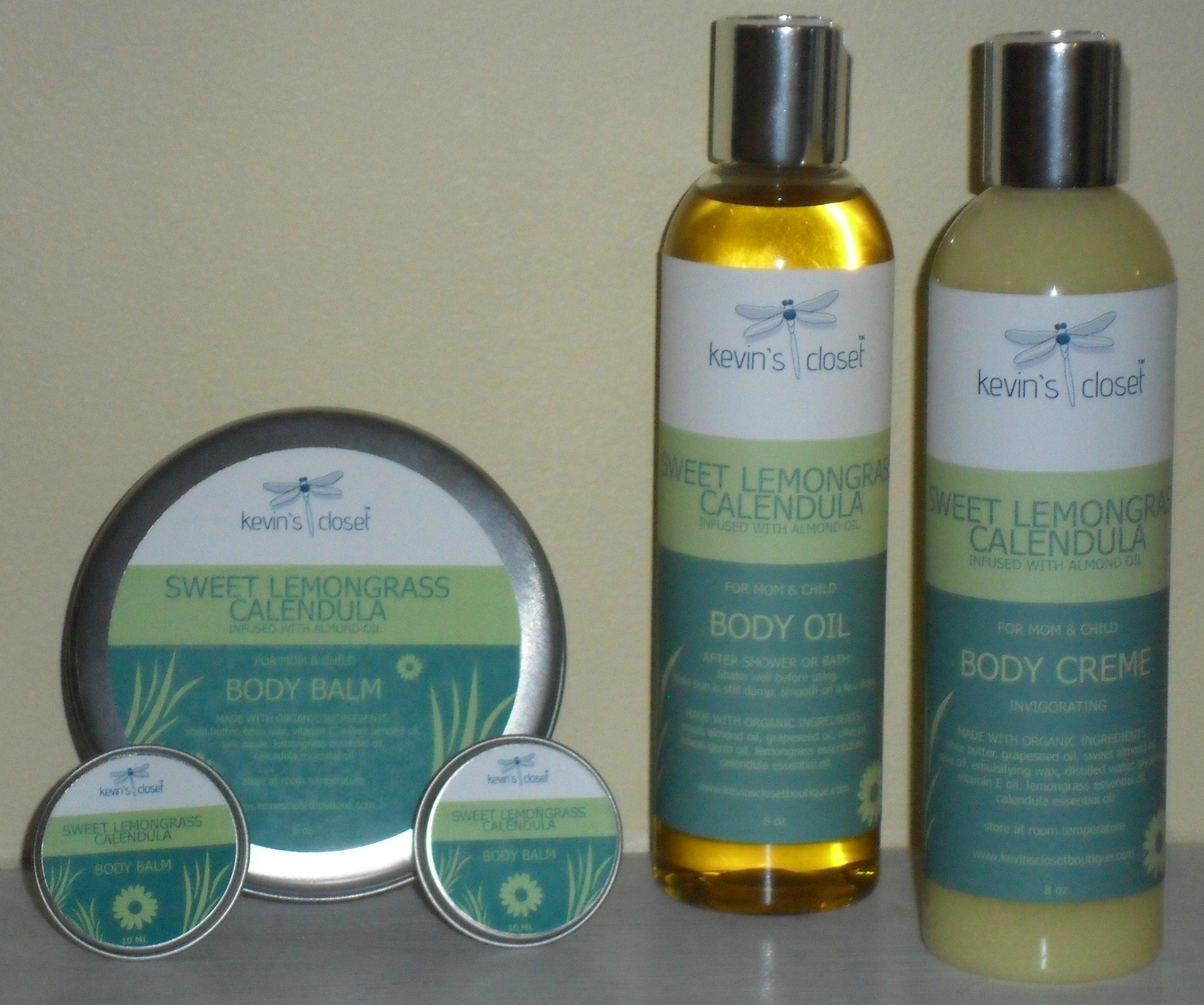 I was elated when I received the package.  There it was; the body cream, body oil, and body balm in sweet lemongrass scent.  The packaging was simple and clean.  I loved the smell the minute I opened the bottles.  I started lathering them from my body to my toes twice a day for the past couple weeks.  I also used it on the boys after their baths.  The bottom line is the products are non-toxic and they keep you hydrated throughout the day.  Here are my opinions on the individual products that I tried:
Body Oil 8 oz ($20):

There are no cons for this baby!  Love the smell.  Did not feel greasy when applied.  Kept my skin hydrated 24/7.  My boys' skin felt softer after 1 week of use.

Body Balm 6 oz ($12)

: There are no cons for this product either.  Love the smell.  For some reason I ended up using this as a lip balmer.  Maybe because of the way it was packaged like a lip balmer?  Anyhow, I loved it!

Body Cream 8 oz ($22)

.  I was slightly disappointed with the packing of the body cream.  The cream itself was fine and kept my skin hydrated and smelled amazing! It was the cap on the bottle that I had to struggle to squeeze any cream out.  I think maybe the cream is just too creamy.  In my opinion I think it would have served well had it been bottled in a tube.  Nevertheless, I loved it.
Overall, I think these products are good.  I honestly think their prices are a bit steep compared to other organic products that I have used.  Kevin's Closet is currently offering Mama in Heels readers a 10% discount at  http://www.kevinsclosetboutique.com/ using coupon code of KCSAVE10.
You can also enter to win their 2 oz Sweet Lemongrass Crème & Oil, and 1 oz Lemongrass Balm.  Here are the details on how  you can enter.  The winner will be announced on this website on Wednesday, February 20th at 9am PST!  Good luck!
Disclaimer:  I received these complimentary products from Kevin's Closet.  This has no influence on my opinions.