Happy Monday everyone!  Hope you had a great weekend..
Today's post is about skincare and what products we can use to boost our natural beauty.  I've been asked by Seventh Generation to review their latest product creation, Seventh Generation Hydrating and Protecting Boosts.  I had just finished using another skincare product, which I did a review for here, when Seven Generation contacted me.  I have always loved using their household products because they are made with non-toxic ingredients and I also love the fact that this company is socially responsible.  I didn't know they had recently launched a new line of affordable All Natural Skin Boosting Serums that are made with natural botanical oils, free of parabens, phthalates and synthetic fragrances in July.  I've been using their serums for the past few weeks now and here's my take on them: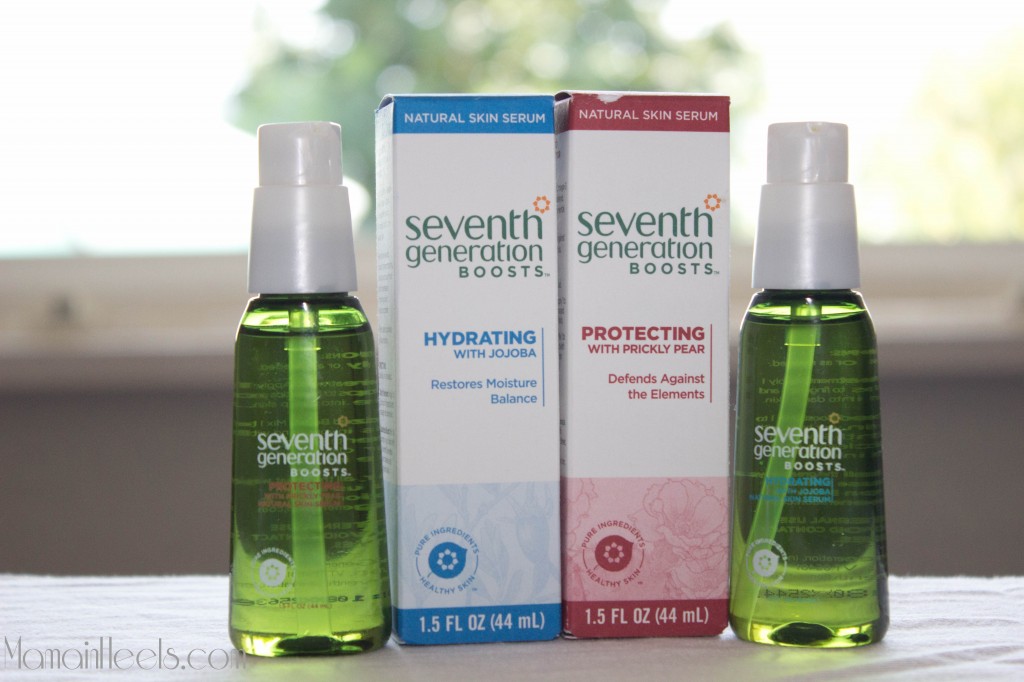 The Claim:
Seventh Generation Boosts™ are formulated with pure botanical oils that are rich in antioxidants, vitamins, and essential fatty acids. Each Boost is designed to deliver concentrated nourishment directly to the skin and help lock in moisture to promote elasticity without clogging pores. Even oily skin feels renewed and balanced!
Expert Opinion:
Women who use Seventh Generation Boosts on their skin often report drastically softer skin texture, reduction in the appearance of fine lines, less oily skin and brighter, more radiant-looking skin. Many women swear they will never go back to lotion once they use oils!
Mama's Take:
I've been using the Boost Hydrating and Boost Protective for the past couple weeks.  I have to admit that the boosts feel a bit sticky and greasy but it smells great, very refreshing.  I add a couple drops and mix it with my argan oil and apply it to my skin.  My skin has been feeling quite supple and hydrating.  At times, my skin would glow!  I have extremely sensitive skin, so these products did not cause any blemishes or clogging my pores.  I love the fact that their products are made with pure botanical oils that are rich in antioxidants, vitamins, and essential fatty acids.  What I love most about them is that they cost less than $15 for a 1.55fl oz bottle, which is affordable, and they are available at Walgreens.  We all know how expensive anti-aging skincare can cost, so to have access to affordable fountain of youth is exciting and hopeful.
***Disclaimer:  I received free products from Seventh Generation in exchange for providing my own opinions. This review represents my honest opinions, findings, and/or experiences, and not swayed by the sponsor or any outside sources.***
Thank you for visiting and have a fabulous day!
        If you liked this post please take one second to vote for me!!!
All you need to do is click on the banner above to register a vote for me!
 You can vote one time every 24 hours from every computer and cell phone!  I really appreciate your support!  THANK YOU SO MUCH!!!