Happy Friday everyone!
Welcome to the "Things I Love" series. I will be picking my favorite high street finds each week. So whatever you're looking for – be that a new dress, an on-trend top, some ritzy shoes, that statement necklace, or a chic handbag – hopefully, this is the place. This week I  found some amazing items in yellow color…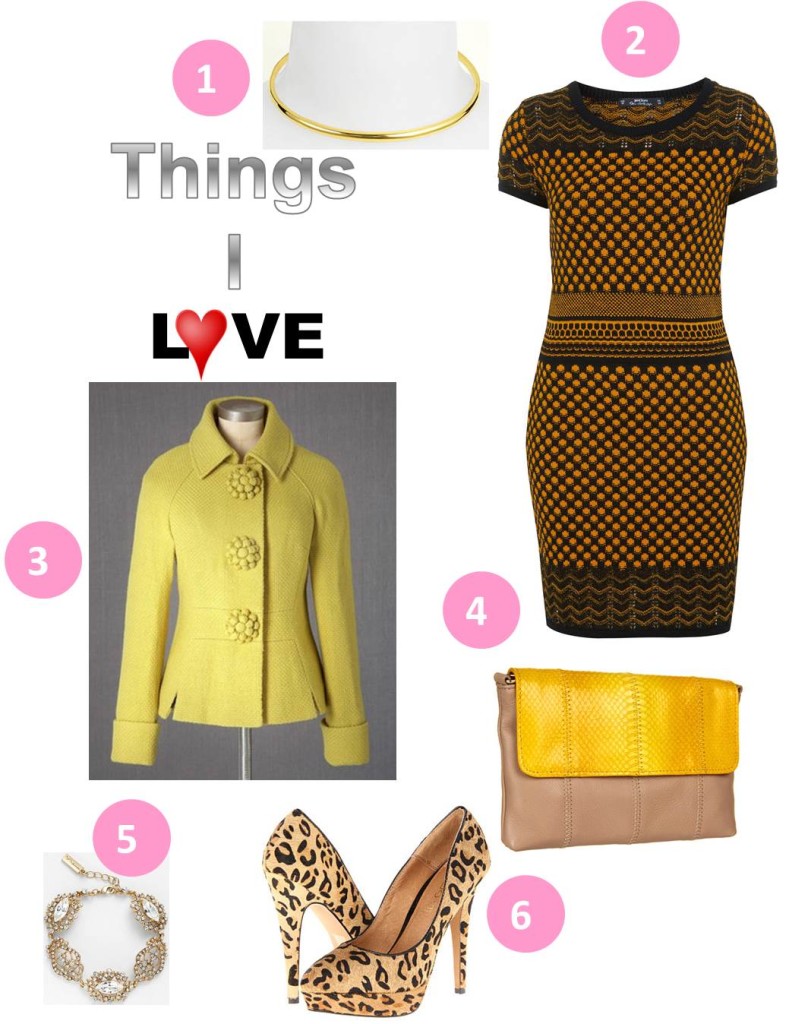 ||1: Collar Necklace, 2: Knitted Dress, 3: Wool Jacket, 4: Leather Crossbody Clutch, 5: Pave Crystal Bracelet, 6: Leopard Print Pumps||
_____________________________________________________________________________________
This wool jacket (2) from Boden is gorgeous and versatile.  You can pair it with almost anything from your closet like denim, pencil skirt, midi skirt or liquid leather leggings.  I love this collar necklace (1), so simple but speaks volume.  I love wearing knit dresses in the fall and this dress (2) is perfect for a night out with friends or hubby.  Clutches are understated and elegant and I love this leather clutch (4) at such an affordable price of $106!  I love animal prints of anything so these leopard print pumps (6) will go nicely with my skinnies.  I know this pave bracelet will spark some conversations at a party.
Mama in Heels has been chosen as VoiceBok's Top 50 Moms Who Blog About Fashion and Beauty for 2013.   Thank you so much for your support and for taking this journal with me.  It has been incredibly exciting!   I would be eternally grateful if you could vote for me to be their Top 10 (hopefully, #1!) at http://voiceboks.com/top-50-moms-who-blog-about-fashion-beauty/.
Thank you so much for reading and have a fabulous and safe weekend!
        If you liked this post please take one second to vote for me!!!
All you need to do is click on the banner above to register a vote for me!
 You can vote one time every 24 hours from every computer and cell phone!  I really appreciate your support!  THANK YOU SO MUCH!!!