Happy Thursday everyone!  The week is almost over!!!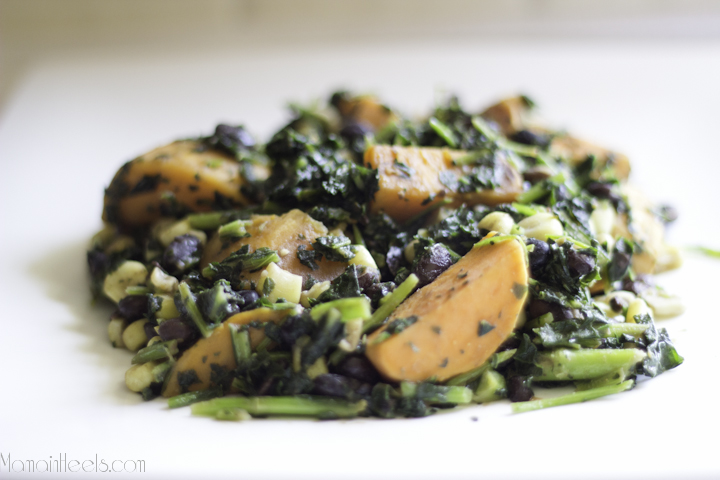 I've never cooked Kale until recently.  Kale has always been the primary ingredient in juicing for us.  Kale has an exorbitant amount of health AND beauty benefits that is now becoming a food staple in our family.  I think I tried to sauteed Kale with garlic once but it didn't taste as good as I had hoped, and have been on the lookout for an easy but tasty recipe.  This Kale recipe at Goop was awesome!  I recently decided to add corn to the mix and it was just as tasty!  I'm sure most of you have heard of Goop, founded by Gwyneth Paltrow.  Whether you love or hate her you just have to admit the fact that this woman does live a very organic healthy life.  I admire people who can cook well but I a'm in awe with people who can cook organic healthy food that is also delicious.  I'm no longer a carefree 20 something woman.  I'm now a forty something mother who wants to stay healthy and live long enough to at least see her kids graduated from college.
I purchased the organic kale and organic corn from Costco.  You can find them at the frozen section.  For kale and corn (already shucked), all you need to do is defrost the amount you need to cook for the meal and that's it.  I purchased the organic sweet potatoes from Trader Joe's.  They are super easy to prepare.  You just need to peel and cut them into half lengthwise.  The organic black beans (canned) are also from Trader Joes.  All you need to do is open the darn can!  It can't get simpler than that!  I now prepare this dish twice a week.  Hubby and I love it.  The boys are not digging it though but they are eating the corn and some kale.  Hopefully their taste buds will change one day and eat the entire dish.  I love to hear how you prepare Kale!!!
If you liked this post, please vote for me 

here 

for Top 50 Moms Who Blog about Fashion and Beauty, and 

here 

for Top Mommy Blog.  I really do appreciate it!!!
Thank you so much for visiting and have a fabulous day!