Happy Monday everyone!  Hope your weekend was fabulous!!!
||Wearing: Pixie Market Organza Sweater, BCBG Leather Pants (old), DIY leather cluth, Rivka Friedman Cuff, Sergio Rossi Pumps (old)||
I'm so glad that I made the decision to get these leather pants tailored.  I've been putting a lot of miles on them and will continue to do so.  One of the ways that I love pairing this leather pants during the winter season is a basic sweater, and that can be any color (don't you just love black pants?).  I wore this outfit to a museum outing last week and was stopped by a few women about this sweater.  Well, there's a story behind this sweater.
I saw this organza sweater months ago at Pixie Market and fell in love with the pretty organza hem but I didn't want to buy it on an impulse so I waited for a few weeks to think about it.  I went back to the site and noticed it was SOLD OUT so I added my name to the waiting list.  They sent me a notification a few weeks later but I didn't get to it till a week later.  By then it was SOLD OUT again…okay, so it was not meant to be!  I let it go for a few months and sort of forgot about it.  Then a few weeks ago when I was doing Christmas shopping, I visited the site to purchase something else and voila, the sweater was available…so I pulled the trigger and here it is!!!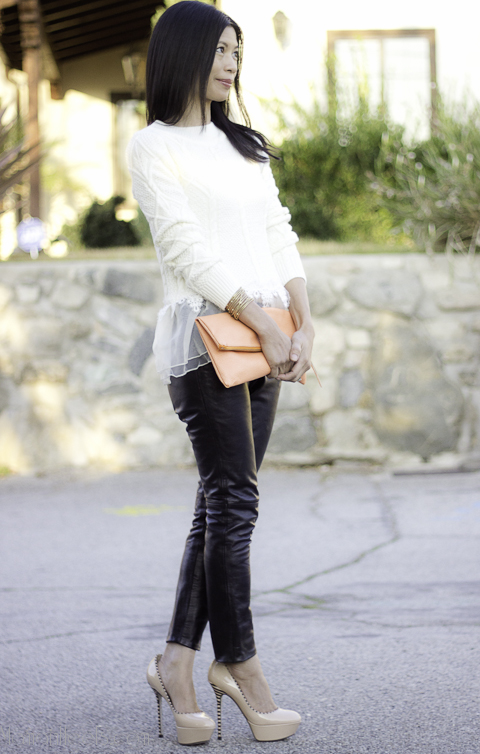 Photography: Gabriel Burrafato
Shop the Look!
 If you liked this post, please vote for me 

here

 for Top Mommy Blog.  I really do appreciate it!!!
Thank you so much for visiting and have a fabulous day!