||Mama: Skechers Leopard Ballet Flats- thanks to Skechers!, Dante & Alexander: Skechers Boys Super Hot Lights Shoes – thanks to Skechers!||
I'm a high heeled kind of girl, always have and will always will be.  It's a known fact that I love heels, hence the blog Mama in Heels.  There are days when my feet need a rest.  When those days came knocking I'd reach for my ballet flats or loafers, and sometimes slippers.  They are comfortable and stylish but I can't really run and play rough with the boys while wearing them.
When Skechers contacted me to review their shoes I wasn't sure if it would be the right fit.  I mean, I'm a yoga girl…not a hardcore athletic marathon runner, not even a beginner runner.  I was pleasantly surprise to learn that Skechers carries a great selection of stylish shoes in addition to their known athletic line.   They also carry colorful shoes for kids so I couldn't resist and decided to take their shoes for a ride.
Last week we took the boys to one of their favorite stomping grounds, the Merry Go Around in the mall.  And did they ever stomp!  They stomped and playfully ran around the mall so much that their Skechers Super Hot Lights shoes even outshined the Merry Go Around! After such an enlightening experience the boys insisted on sleeping with their shoes on that same night…and I let them 🙂
These comfortable shoes gave me the energy to keep up with the boys all day long without putting any stress on my feet.  I now can wear these stylish shoes with any outfit my busy life as a mom of twins takes me!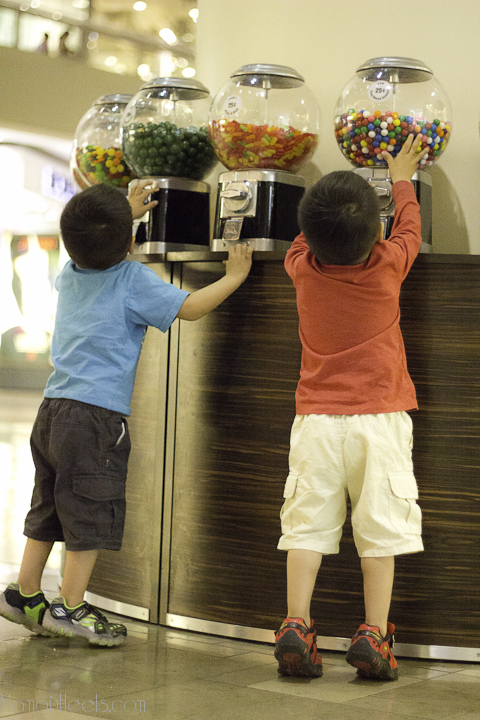 ***Disclosure:  I received products from Skechers for this review but as always all opinions and experiences are my own.***
Thank you so much for stopping by and have a fabulous day!