||Wearing: Liberty of London Bright Rose Pajamas – thanks to Elizabeth Cotton!||
…Getting a Good Night Sleep in Style
Being able to gradually awake from a blissful sleep that was uninterrupted by screaming kids is a blessing these days for me.  It took 2 years after the boys were born that I was able to sleep soundly at night.  I typically get 6 to 7 hours of sleep during the week but I try to sleep a little longer on the weekend because having a good night sleep lays the foundation for a potentially positive and productive day for me.  That's the power of sleep.  You will thank yourself in the morning and at the end of the day.
I never neglect my style upon heading to bed.  When these gorgeous Liberty of London pajamas arrived from Elizabeth Cotton for review I couldn't wait to slip them on before bedtime.  Made of 100% premium cotton, they are the most luxurious pajamas I have ever laid eyes on.  To me, wearing a luxurious pair of pajamas feels like I am appropriately dressed for opening the door to greet my kids and having breakfast and coffee with them in the morning, all the while looking lovely.  These pajamas are great for traveling too because they will make the journey a bit more luxurious.  I can't wait to take them with me to my upcoming business trip!
Do you want to wear these luxurious pajamas to bed or give them to your Mom for Mother's Day?  Yes you can!  Elizabeth Cotton is generously giving away a set of Liberty of London pajamas to one lucky Mama in Heels reader!  So scroll down for info on how to win this amazing set of pajamas!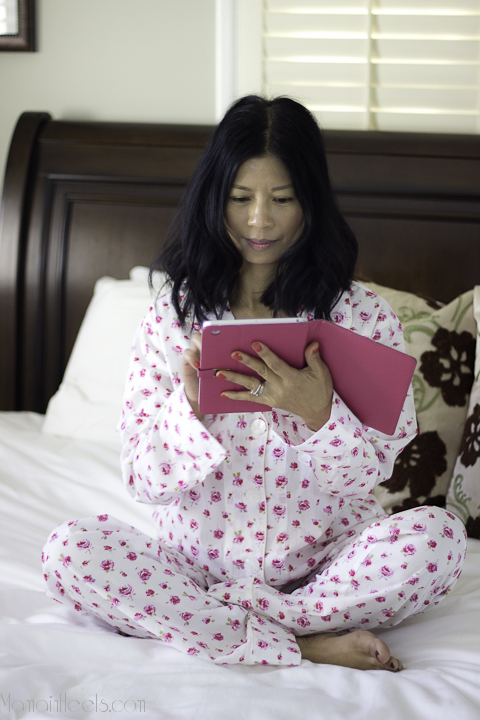 ***Disclosure: I received a set of pajamas from Elizabeth Cotton for review.  As usual, all opinions are my own.***
 : :The Giveaway: :
1 set of Liberty of London pajamas (value $198) from Elizabeth Cotton in any style/color
 : :How to Enter : :
1. You must be over 18 and a resident of U.S or Canada.
2. Please visit Elizabeth Cotton and then write in comments on the post in which style/color you like best.