Hello everyone!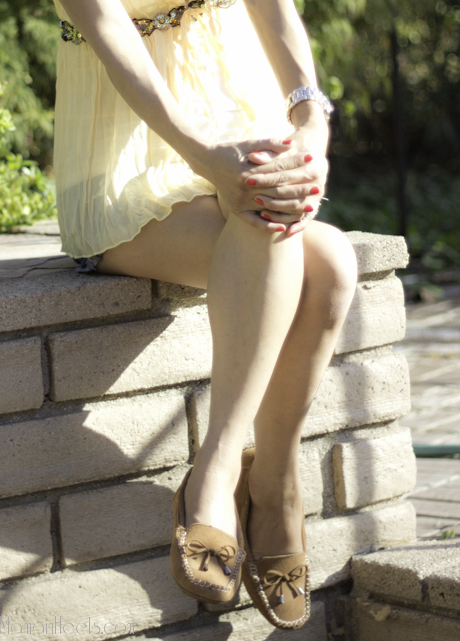 Wearing: 213 Industry top (super old), forever 21 cami, Joe's denim shorts, bebe hat (super old), moccasin-thanks to Lamo Footwear!, Michael Kors watch.
_____________________________________________________________________________________
I've always loved moccasins.  I remember seeing a classmate in my 7th grade Algebra class and I found them fascinating.  They looked different and I couldn't keep my eyes off of them for the entire year!  I guess you could say that I had a crush on these shoes!!!  Given that I just immigrated to the States for a few years I didn't know these unique stylish shoes were called Moccasins.  I later learned that historically, moccasin is the footwear of many indigenous peoples of North America.
Although I wanted a pair back then but didn't really know how to style them let alone not having any money to purchase a decent pair of shoes.  Many years had passed and my style had changed and evolved; moccasin was too bohemian for me at the time.  However, a month ago I was introduced to Lamo Footwear, a company specializing in sheepskin footwear.  When I saw this pair of classic moccasin I knew I had to try it.  They are affordable, stylish, comfortable, and surprisingly versatile.  I've been wearing them to the parks, to run errands…in the summer heat! I also love their sandals collection like this and this.   Here in these photos, I wore these moccasins for my daily routine walk to the park with hubby and the boys.
Thank you for visiting and have a fabulous day!
        If you liked this post please take one second to vote for me!!!
All you need to do is click on the banner above to register a vote for me!
 You can vote one time every 24 hours from every computer and cell phone!  I really appreciate your support!  THANK YOU SO MUCH!!!