Happy Monday everyone!
||Wearing: ASOS biker jacket, Le Tote dress – borrowed, BCBG belt, Manolo Blahnik shoes (old, similar), DIY clutch, JCrew necklace, Le Tote necklace-borrowed||
I'd like to share with you about a new secret in the fashion and budget world.  LE TOTE is a new concept in fashion that encourages you to rent clothes instead of buy them.  This company is a fashion start up based in San Francisco that has been deemed "The Netflix for Fashion".  They are like the runway but for ready to wear.  For about $49 a month you receive a personally styled box filled with garments and accessories. Return the used items in a prepaid envelope and in a few days you get your next box.  They take care of the shipping and laundry.
When I was contacted about LE TOTE I was certainly intrigued.   I didn't think a company like this existed.  I can actually select an unlimited amount of clothes, wear them, and return them without any hassle.  I don't even have to clean the garments.  That's just too good to be true.  So I decided to test their concept for the next 2 months and blog about it.  Here's how it works in a nutshell; you create a profile on LeTote.com and tell them about your style by selecting items you love, as well as inputting your clothing sizes and measurements.  The items then arrive in a few days with prepaid envelopes for returns.
I have selected a number of tops, skirts, dresses, and jewelry items from their site.  A few of them arrived last week but out of those items this dress and the necklace are my favorites.  I love the color of the dress and the quality is pretty good.  The necklace is prettier in person and the quality is not bad either.   I will be sending them back for replacement of other items.
I think this site is great for fashionista who are on a budget but wants to keep up with the trends at all times. You only have to pay $49 a month but you get to choose more than 1 item.  I don't think you can even purchase a decent trendy dress for less than $49 nowadays.  And if you are a fashion blogger, this is the site you MUST subscribe to!  Stay tuned for another review of Le Tote's mystery items.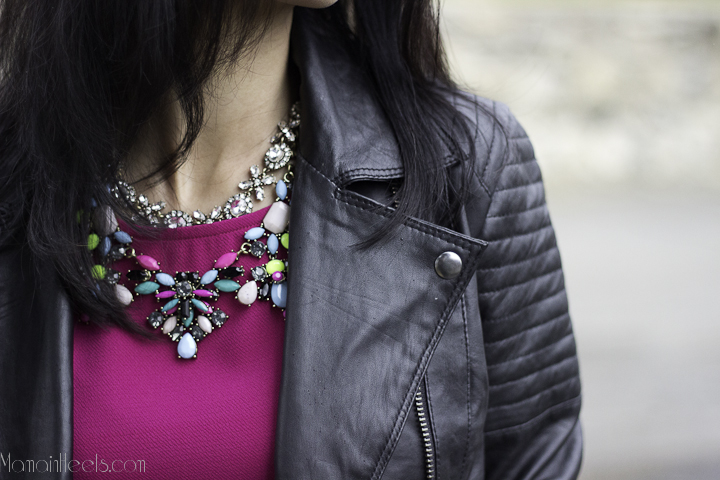 Photgraphy: Gabriel Burrafato
***Disclaimer:  This is not a sponsored post but I did get to test drive Le Tote for two months free plus I get to keep the items that I like for the purposes of writing this review. Opinions are always my own***
Thank you so much for visiting and have a fabulous day!