Happy Tuesday everyone!
Each Tuesday I co-host the Beauty Buzz Link Up with the fabulous Nicole from Mom Trends, Lulu from Simply Lulu Style and Alison from Sassy Moms in the City.  This week I'm hosting and sharing my take on Derma E's glycolic facial cleanser.  So come and join us and share your beauty posts by linking up below.  Don't forget to enter for a chance to win a year's supply of Wink Cosmetics!
You may have heard about Glycolic Acid and the benefits that it can give your skin.  Glycolic Acid is an alpha hydroxy acid derived from sugar cane that is known for exfoliating skin, improving texture and revealing a fresh, smooth, more youthful complexion.  It basically safely removes outer layer of dead skin cells on the surface of your skin, which will bring fresh new skin to the surface.  Glycolic Acid can also help lighten discoloration of the skin, such as sun spots or age spots.  It comes in many different skincare products.
I knew about the serums, moisturizers, eye cream and face peels.  But not until recently that I learned about the facial cleansers during my usual drugstore run a few weeks ago.  I spotted this glycolic facial cleanser from Derma e and was intrigued.  Thanks to the internet that's readily available on mobile phones I was able to look up its info and reviews.  After reading its positive reviews I decided to purchase this cleanser for $15.99 and give it a try.
The Product:
Derma E Glycolic Facial Cleanser with Marine Plant Extract.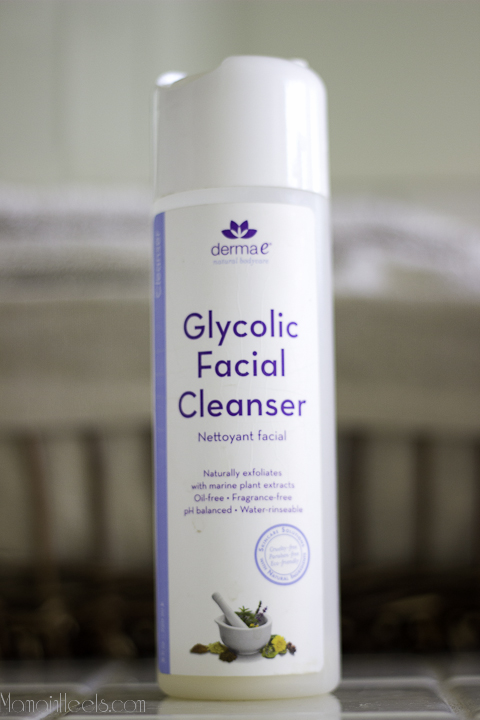 The Claim:
Derma E Glycolic Facial Cleanser with marine plant extracts is an exceptionally gentle and natural way to thoroughly deep-cleanse and rejuvenate all types of skin. It is oil-free, fragrance-free, water-rinseable, and will not strip your skin or dry it out. Glycolic acid helps to shed old, dull cells, unclog pores, and make your skin more receptive to your applied moisturizer.
Mama's Take:
For the past few weeks, I've been using this on my face as a cleanser in lieu of the baby shampoo.  The liquid is soft and not grainy at all.  I have to say that this product leaves my skin feeling smooth but not taut or dry.  My face feels soft and supple after each wash.  The only drawback for me is that it does not remove my makeup completely.  I have to remove my makeup first and then cleanse my skin with this product after.
Just a few days ago, I went back to CVS to stock up but unfortunately they were out of stock.  So I purchased the cleanser from Nuance instead because I needed a glycolic acid cleanser immediately.  I also purchased the Microdermasion Scrub from Derma e.  I guess you can say that I'm now a glycolic acid addict – LOL!  I just started using the Nuance cleanser and will share my take with you in a couple weeks.  So stay tuned!
**Disclosure:  This is not a sponsored post.**
Now let's link up and share your fabulous beauty tips!