I'm super excited to share another monthly series called $200 Clothing Budget for 2017 because a lot of people think you have to spend a lot of money to look like a million bucks.  Well, you don't and I'm going to show you how.
I'm just like any other girl, a lover of fashion who loves to shop!  I'm also just like most other girls, who shops on a tight clothing budget.  According to an award-winning financial planner, Peter Dunn, you should only spend 5% of your take home pay on clothing.  So, if your take home pay is $60,000 a year then your monthly budget for clothing would be $250.
Can you realistically get a kick-ass wardrobe for $250 a month?  Follow me and I will show you how you can build your top notch wardrobe for $200 a month instead.  I think $200 is very realistic since $50,000 a year is the average take home pay for most of us. 
For the next 12 months, I will help you find the most affordable but high-quality pieces with that budget.  Just because you have $200 a month to spend does not mean you have to spend it all.  You can pile the leftover cash on to next month's budget to get that classic purse or those premium jeans.  The key is to dress smart with that budget to get your wardrobe sorted and styled so that you can wear them again and again.
And here's how we are going to do it starting in January…
For less than $170, these three pieces look fabulous as an outfit.  But always keep in mind that we want to be able to mix and match each of these pieces not just in January but throughout the year and possibly more.
Floral Blouse ($65):  I love this floral blouse because it looks so feminine and chic.  You can pair this blouse with a pencil skirt like this one here for work or your off-duty style with a skinny/flare denim.  For summer, this blouse would pair really well with a high-waist short denim.
Pencil Skirt ($9.99):  You can never go wrong with a pencil skirt, especially a black color.  For $9.99 you can't find a better one that is structurally well made than this one.
Ankle-Wrap Suede Pumps ($79.95):  I love these pumps not only because of the price but also because they are made with genuine suede.  These pumps too will go with everything in your closet.
Notice I didn't spend every dime because I want to apply the balance of $31.12 to our February budget so that we have more to spend?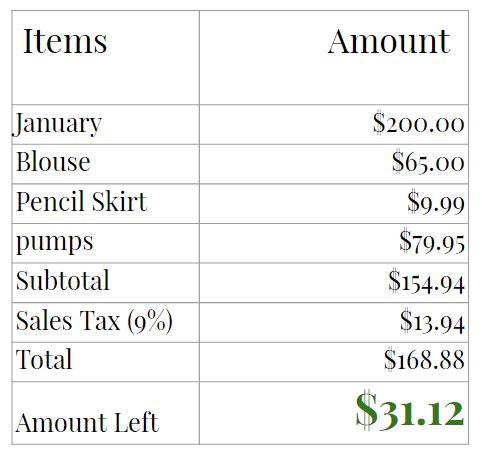 This is probably one if not my most favorite series.  Stay tuned for what is to come in February!