Welcome to the monthly series, In Her SHOES.  Each month the series will focus on anything shoe related from trends to reviews regardless of price.  For November  I'm thrilled to share a pair of maroon velvet pumps, which is right on trend for fall/winter.  Meet…
Price: $160.00 $129.60
I'm not a fan of wearing cloth or non-leather material made shoes.  They attract dirty easily and difficult to clean.   Most of my shoes are made of leather because they tend to last longer and easier to care for.
I love velvet and have been looking for a pair of velvet shoes where the lining and sole are made of leather.  When I saw this pair while browsing online I knew it was meant to be.
Read on to see whether it was a good buy or not.  Marc Fisher shoes run true to size.   As mentioned previously when shopping for shoes there are three tricks that I always use whenever I try on shoes to make sure they are comfortable and fit right.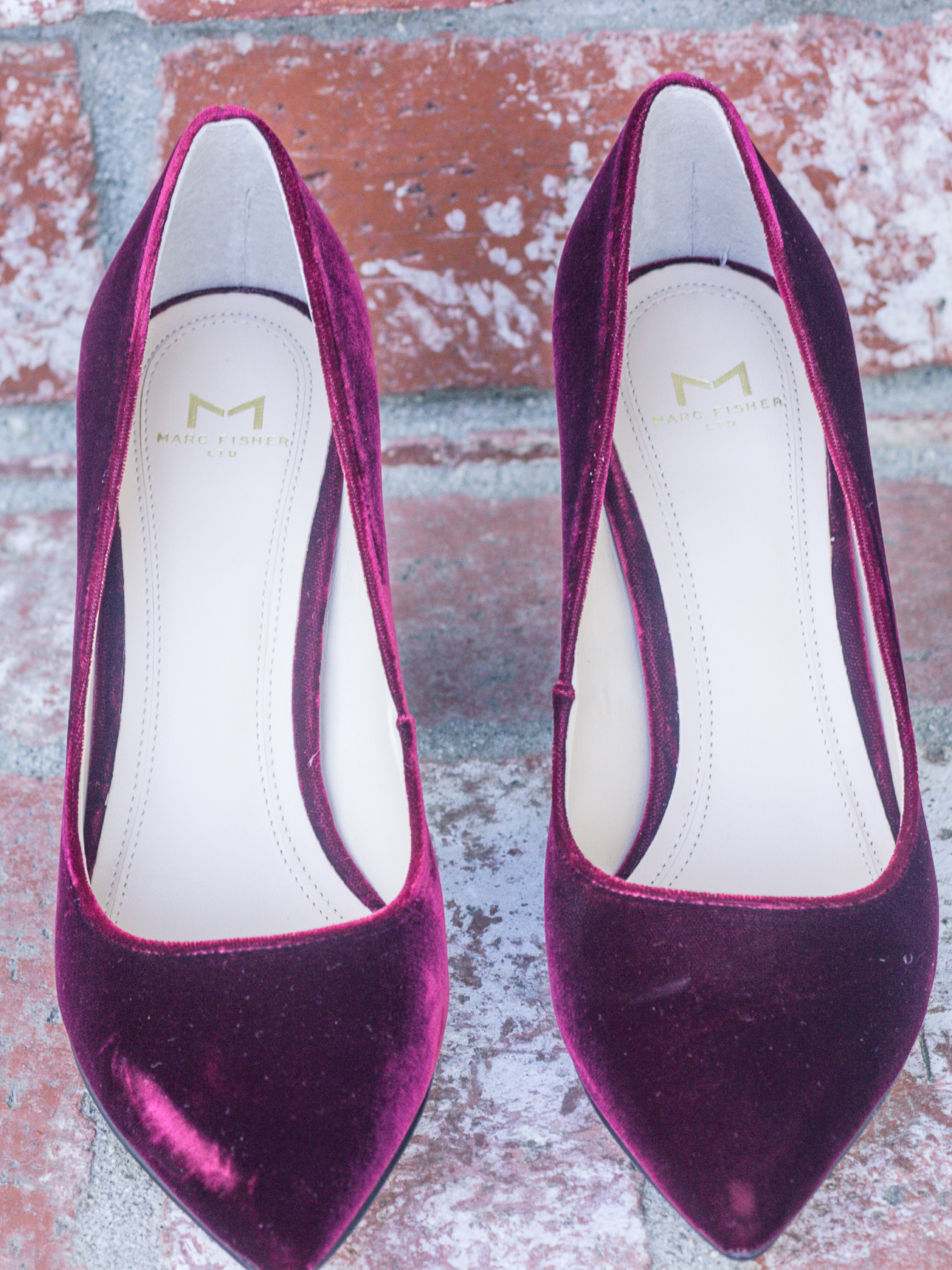 The Late Afternoon Trick
In case you're not aware, our feet do change as the day goes on.  They tend to swell a tad, typically in the late afternoon.  That's the best time to try on any shoe.  You want to make sure they fit right.
The Test:  I tried these pumps on at 4 in the afternoon when my feet tend to swell during that time.  I also took them for a ride to Walgreens and Trader Joe's.  They were extremely comfortable.
The One-Inch Trick
This typically applies to stilettos 4″ or higher.  It is recommended that you should have about an inch between the insole and your heel when you lift your heel up.  If you can't then that means they're probably too high and you won't be comfortable.
The Test: These pumps are less than 4 inches high so I was able to lift my heel up easily.
The Thumb Trick
I do this all the time, especially when trying on pumps.  Make sure the space between your big toe and the top of the shoe has about a thumb's amount of space.  You want enough wiggle room so that friction in that area is not created.
The Test: These pumps passed this test.
Pros:
They are very affordable and stylish.  I also love the height because it's still tall enough to give me a few more inches while offering comfort to my feet.  The maroon color is beautiful and it is the perfect fall/winter color.
Cons:
Well, the only thing that I could think of is that the velvet material tends to trap dust and lint easily.
Opinion:
They are keepers!
Styling Tips
Velvet shoes are so decadent and they can certainly make a statement.  I like to keep the rest of my outfit neutral or even monochrome so that my shoes do all the talking not just walking.