Happy Monday everyone!  Hope you had a wonderful Mother's Day celebration. I did 🙂
Welcome to week 13 of my spring capsule collection outfit remix series.  This week I'm excited to share my cobalt jumpsuit that I wanted to wear for this event.  I'm so happy that my cleaner was able to perform some miracle in cleaning the grease stain that was near the armpit area.  This jumpsuit was purchased during a major sale event at Oasis and I snatched it up for $37!  I have a total of 2 jumpsuits; one in black and the other one is this in blue.  Blue is one of those colors that most people look nice in. The trick is to find the right shade of blue for you.
Yes, this jumpsuit in one solid color qualifies as a monochromatic style by default.  I added a vintage gold belt to break up the look and also to give the elusion of a smaller waist.  This jumpsuit is conversative but blayful, comfortable yet versatile.  You can put on a white, black, camel, grey, or even a blue blazer to get 5 different business looks.  Or, pair with a moto jacket for that badass attitude.  This is by far one of the best buys for my spring capsule collection.  Not only it is affordable but it will never go out of style.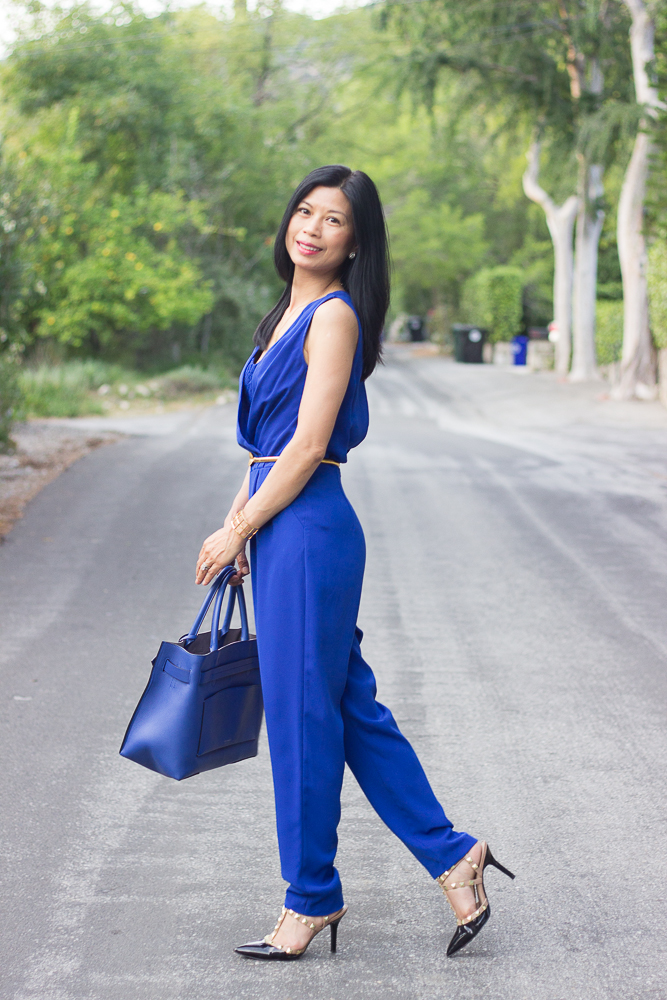 Oasis Jumpsuit (sold out, similar style)| Vintage Belt (similar style)| BCBGeneration Pumps (similar style in different colors)| Reed Krakoff Stachel|Baublebar Cuff